DC1035 Lewis Bins Divider Box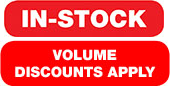 $100.00 Minimum Order Required
FOB: Midwest Warehouse
Colors: Red, Light Blue, Dark Blue, Gray

Sold in Carton Quantities Only!

These divider boxes are well-suited for storing large bulk items or small, fragile parts.
Strong stacking ridge and innovative ribbed walls ensure high performance.
Resists water, oil, most chemicals and solvents
Load capacity of 40 lbs. per container.
Compatible with many kinds of racking, shelving and material handling equipment.
Two cardholder snaps included on box
If you need a large quantity of this product, call us at 1-800-338-1382 for additional bulk discounts!