ESD-Safe Rail Floor Stands - Single Sided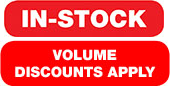 FOB - Midwest Warehouse
Lead Time 10 days
Durable Black Conductive Coating
$100.00 Minimum Order Required
Combine ESD-Safe Part Bins with Conductive Floor Stands to increase storage efficiency. Boost workstation efficiency with LEWISBins+ ESD-Safe Louvered Panel Floor Stands. Single sided floor stands hold up to 800 lbs.
Features:
Rail floor stand.
Single sided.
Choose between 12 or 16 rails.
Manufactured from 16-gauge steel
XL conductive material.
ESD- Safe Bins sold separately.
Finished in a durable black permanently conductive coating.
Stationary racks can be fastened securely to the floor for additional stability.
Proper grounding is recommended.
Assembly required.
Number of Bins That Fill The Louvered Panel by Model Number Chart Found In Images
If you need a large quantity of this product, call us at 1-800-338-1382 for additional bulk discounts!