Lewis Bin Carts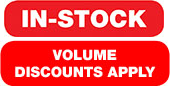 $175.00 Minimum Order Required
FOB: Midwest Warehouse

Lead Time 3 - 5 days
Stocked Bin Colors - Red, Blue and Yellow

Designed for rugged factory use, yet attractive for use in an office. Transports equipment and small parts from one workstation to another. MCPB models offer double sided design for easy access in any work space and a lipped tray to hold items in place during movement. The MC3624-12 model offers four locked drawers and enclosed area for 12 bins.

Features:
5" polyurethane casters (2 swivel and 2 rigid).
Efficient cabinet depth and heights optimize wall space.
Bins are included.
16-gauge construction top tray, 2-1/2" deep.
1,000 lb. weight capacity.
Secure contents in lockable drawers with model MC3624-12.