Louvered Panel Floor Stands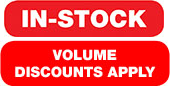 FOB: Midwest Warehouse
Lead Time 3 days
Gray Baked-On Enamel Finish

Bins Sold Separately. Assembly Required.
$100.00 Minimum Order Required

Add shop floor efficiency with Louvered Panel Floor Stands. Part Bins hang securely on panels. Boost workstation efficiency with LEWISBins+ Louvered Panel Floor Stands. Double sided Floor Stands hold up to 1,600 lbs. Optional Mobile Kits add instant mobility.

Features:
Manufactured from durable 16 gauge steel.
Single- or double-sided stands meet a wide variety of storage and work-in-process needs.
For greater versatility and convenience, add a mobile kit to the double-sided floor stands.
Includes panel, legs and fasteners.
Also available in ESD-Safe Configuration.
Casters only Fit Model LPFS2-BST. With Mobile Kit, Unit only has a 500 lbs load capacity.
Casters can be purchased through the "Options" tab
Louvered panel floor stand.
Please order bins separately.
Assembly required.
Load capacity includes bin weight.
Formed from 16-gauge steel for strength and stability.
Includes panel, legs and fasteners.
Finished in grey baked enamel.
MK4000-B mobile kit available, please contact LEWISBins+ for more information.
Also available in ESD-safe material.

Note: Weight, excluding bins. Capacity includes bin weight.
If you need a large quantity of this product, call us at 1-800-338-1382 for additional bulk discounts!