Rail Floor Stands with Bins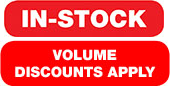 FOB: Midwest Warehouse
$100.00 Minimum Order Required

Lead Time 3 days
Gray Baked-On Enamel Finish
Standard Bin Colors - Blue, Red, Stone, Green and Yellow

Bins Included. Assembly required.

Save space on the shop floor with Rail Floor Stands. Part Bins hang securely on rugged rails. Organize your workstation floor with LEWISBins Rail Floor Stands. Bins included with pre-configured Floor Stands. Single sided Steel Rail Floor Stands hold up to 600 lbs, while double sided stands hold 1,200 lbs.

Features:
Bins included.
Dimensions are 54" H x 36" L.
Single- or double-sided stand meets a wide variety of storage and work-in-process needs.
For greater versatility and convenience, a mobile kit can be added to double-sided floor stands.
Manufactured from durable 16 gauge steel.
These products are also stocked in ESD-safe material.

Note: Weight, excludes bins. Load Capacity, including bin weights.

Quantity of Bins To Fill Floor Stand By Model Number

Model FS114-BMPB:
Bin Number PB54-3 = 8 Bins
PB74-3 = 8 Bins
PB105-5 = 12 Bins
PB108-7 = 4 Bins
PB1011-5 = 6 Bins
PB1416-7 = 2 Bins

Model FS214-BMPB:
Bin Number PB54-3 = 16 Bins
PB74-3 = 16 Bins
PB105-5 = 24 Bins
PB108-7 = 4 Bins
PB1011-5 = 6 Bins
PB1416-7 = 2 Bins

Options
Mobile Kit only available for Model FS214-BMPB. Mobile Kit makes capacity only 500 lbs.
Casters found in "Options" tab
If you need a large quantity of this product, call us at 1-800-338-1382 for additional bulk discounts!